Note: This lessson could be used in conjunction with the Global Soybeans Lesson Plan.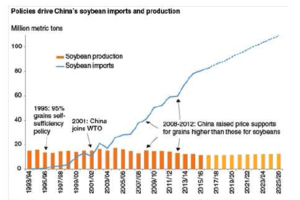 Nebraska AFNR Food and Nutrition Science:
Standard 1: Students will examine the components for the food industry and historical development of food products and processing.
Benchmark 1.3: Students will analyze the components (e.g., processing, distribution, byproducts) of the food products and processing industry.
Objectives:
The student will understand general issues for soybeans in both humans and animals in the US and around the world.
The student will understand that soybeans are traded globally for processing and distribution.
The student will understand the challenges and opportunities within a global food system.
Global Soybeans Lesson Plan (PDF)